CM SHOCK FORCE [CAMPAIGNS]. US MARINE MODULE REQUIRED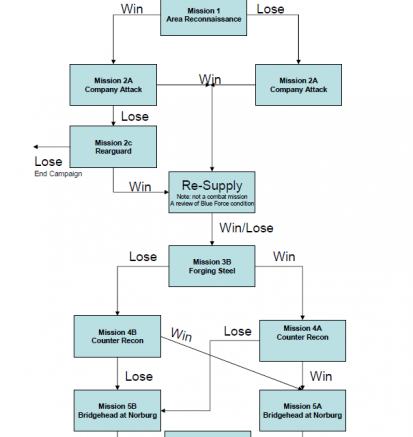 Play Notes "Forging Steel" a CMSF Campaign Important: You will need the USMC module and your game patched to 1.11 to play this campaign. Play Blue Vs Red AI; H2H only
The basic concept behind this campaign is the same as that behind the training at the US National Training Centre at Fort Irwin. To paraphrase NTC's mission statement: The mission of the National Training Center is to provide tough, realistic, joint and combined arms training in multi-national venues across the full spectrum of conflict set in a contemporary operating environment to assist Commanders in developing trained, competent leaders and Soldiers by presenting them with current problem sets to improve the force and prepare for success in future joint battlefields. As such in the scenarios Syrian forces are used to represent Threat forces. It should be borne in mind that these Syrian forces are not Syrian as such – think of a highly trained and well equipped force such as the Russians. The missions are designed to stretch the abilities and tactics of the Bluefor. Question is are you as the commander up to it?
The Campaign
This campaign covers a 12 hour period of intense mechanised combat which follows a US (Blue) balanced company combat team spearheading an attack against Threat (Red) mechanised forces. There are five main combat missions, assuming as the US (Blue) side you can fight your way through winning each one, if you don't then you'll have six actions to fight. Each mission has a distinct feel about it reflecting a key mission a mechanised combat team would, or might, be given. The enclosed flow chart shows the campaign flow from the Blue perspective with each action outlined.
Core Units
This campaign is designed to be played primarily from the US (Blue) side. The main core unit that is tracked through the campaign is on the US side and focuses around 'Hammer Team'. However, the Threat side does have a core unit for part of the action – mostly the first few battles.
For this reason the campaign is designed to be played primarily from a US (Blue perspective) against the Threat (Red) AI. In saying that I have included briefings and maps for the Red side thus enabling it to be played H2H. Each battle has several Threat (Red) AI plans so there is a certain amount of re-playability. You should also note if you decide to replay a battle then the AI might adopt a different strategy in it's operations…
Important!! The bottom line for the US player is you just cannot afford losses, at any stage. To do so will either see you kicked out of the campaign or facing an end battle with next to no units. Red can afford losses – in fact in many actions Red is fighting a desperately to stem the US (Blue) attacks or eliminate their gains.
The challenge for the Blue player, surprise, surprise is to achieve the mission objectives whilst conserving his force. There will be no 7th Cavalry galloping over the hill to save the day, in any battle.
Map and Battle Size
All the battles are on, generally speaking, very large maps – typically around 2.5 x 2.5Km square. Unit sizes on map are generally around a few platoons to at most a reinforced company. No massed battalions here you'll be relieved to hear! The new BFC patch 1.11 should see these maps load far quicker, in a few minutes on average.
This is version 3 in which I have tweaked the Blue vehicle repair/recovery settings for each mission – hopefully this should mean any bogged/immobilised vehicles make into the next mission – also slightly tweaked the victory conditions for counter recon and corrected a couple of typos.
Download "USMC_Forging-Steel.7z" USMC_Forging-Steel.7z – Downloaded 765 times – 15 MB